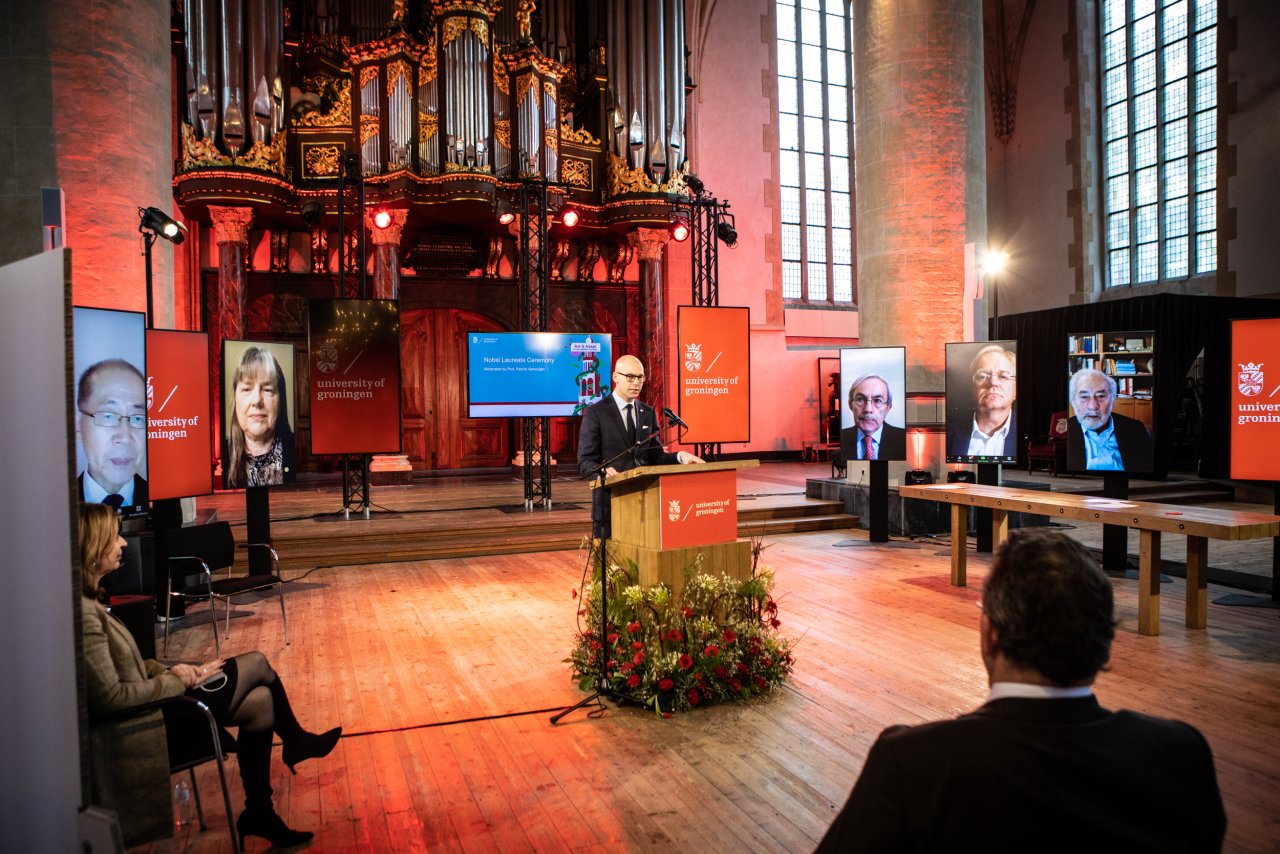 Recognizing those pioneers who have improved society through knowledge, science and humanism, Climate Adaptation Groningen, in cooperation with the Global Center on Adaptation (GCA) and the University of Groningen, hosted a ceremony with Nobel Prizes Laureates in Groningen on 22 January 2021, convened by Chair of the Board of the GCA and Eighth Secretary-General of the United Nations, Ban Ki Moon. 
The ceremony formed a core element of the online international Climate Adaptation Summit (CAS Online) which was held on 25 January 2021, the first ever dedicated platform of global leaders aimed at placing the world firmly on a pathway to accelerated adaptation and resilience.
The Nobel Laureates will contribute their statements as part of the Summit's efforts to raise global awareness of the need to radically rethink how to protect people, the planet and our prosperity.
De Groningen Scientific Statement
Scientists call for economic stimulus to address climate adaptation.
Over the past month, five Nobel Laureates and approximately 3.000 scientists from over 100 countries and regions have signed the "Groningen Scientific Declaration" statement, instigated by the Global Center on Adaptation, which calls on world leaders, decision-makers and investors, to change the way we understand, plan and invest for a changing climate to ensure we limit future damage.
The five Nobel Laureates launched the statement during a virtual event hosted by the University of Groningen and Climate Adaptation Week on Friday 22nd November. The Nobel Laureates who have signed include:
Professor Joseph Stiglitz, The Sveriges Riksbank Prize in Economic Sciences in Memory of Alfred Nobel 2001

Dr. Tawakkol Karman, Nobel Peace Prize 2011

Professor Brian Schmidt, Nobel Prize in Physics 2011

Professor Donna Strickland, Nobel Prize in Physics 2018

Professor Christopher Pissarides, The Sveriges Riksbank Prize in Economic Sciences in Memory of Alfred Nobel 2010
Replay the Nobel Prize Laureates Ceremony